In blog world, followers are gold. For all of us that write our whimsies to our deepest thoughts, knowing that people are reading is the greatest satisfaction. As a way to connect with other bloggers and find some fun new reads, I joined
NYC Island Gal
's Follow Friday
list
. Check out her blog, and find some other awesome bloggers!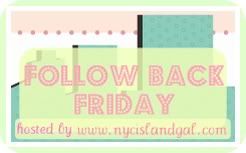 And for those of you just finding my blog, let me tell you a little about myself...
I am 20something Tampa, FL native and have been blogging for 3 years. I currently work for a non-profit, IMPACT, which helps teens make healthy life choices. I am in the process of fundraising for my next great adventure...living as a full-time missionary in Siem Reap, Cambodia, helping to rescue girls enslaved by sex trafficking.
-Greatest loves...music, art, reading, movies/TV, travel and my Savior, Jesus Christ
-Greatest fears...creepy crawlies, heights, not mattering in this world
-Greatest passions...justice, freedom for the captives, creativity
Thanks for finding and following me! Happy Friday!